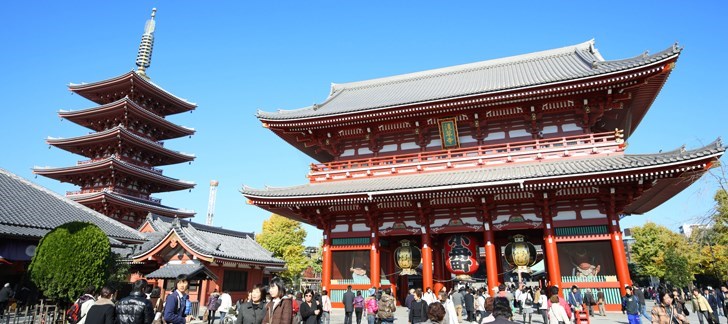 Photo Source: TOKYO SPOT

Familiar to many as the 'Asakusa Kannon Temple' (Kannon is the Buddhist Goddess of Mercy), Sensoji is Tokyo's most historical temple. Over 30million tourists visit every year, making this one of Japan's most visited spots for sight seeing. Read on for an introduction to Sensoji and for our recommendation of snacks surrounding it! Sensoji (浅草寺 'Asakusa Temple') It is believed that in year 628, two brothers had fished the statue of Kannon at the Miyato River (Sumida River today). The chief of their village, Hajino Nakamoto, enshrined this statue at his home so that villagers could worship. The dedicated Kannon is the 'Bodhisattva Kannon'. Amongst the many Buddhas, Bodhisattva Kannon is known as the most compassionate, relieving beings of their suffering and responding to prayers with great benevolence. Kaminarimon (雷門 'Thunder Gate') The Kaminarimon is Sensoji's main gate and symbol of Asakusa. The gigantic lantern is 3.9m tall, 3.3m wide, and approximately 700kg in weight, most recently reconstructed in 1960 by the founder of Panasonic. There is a wooden carving of a dragon on the bottom side of the lantern, which is said to bring rain. From the face of the Kaminarimon, you will see the statue of Fujin (風神 - God of Wind) to the right, and Raijin (雷神 - God of Thunder) to the left.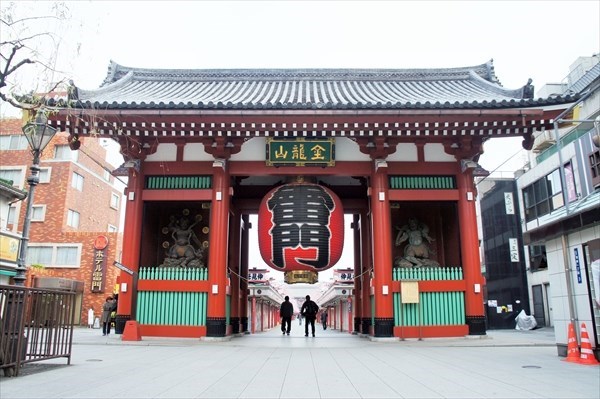 Photo Source: Experience Japan

Hozomon Gate (宝蔵門 'Treasure-House Gate') Once you walk through the Kaminarimon and Nakamise-Dori (仲見世通り), you will come accross the 21.7m tall Hozomon Gate (originally named the Niomon Gate 仁王門). This is where many of Sensoji's treasures are stored. On the back side of Hozomon are the huge waraji (straw sandals), 4.5m tall and weighing almost 500kg. This expresses the greatness of the guardian, Nio's power; which is said to scare away evil, surprised by the size of these sandals.
Photo Source: MATCHA

Omizyua (お水舎) This is where you are expected to purify your hands and mouth before approaching the temple for worship.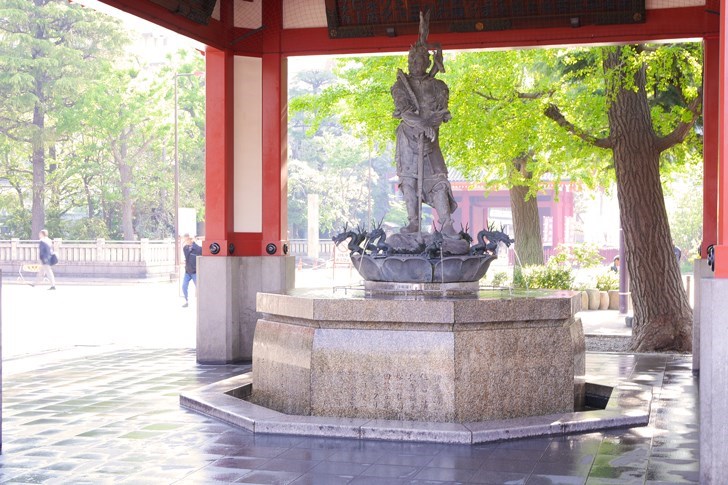 Photo Source: TOKYO SPOT

Instructions for Temizu 1. Scoop water in a ladle with your right hand and pour water over your left hand. 2. Hold the ladle with your left hand and pour water over you right hand 3. Hold the ladle with your right hand again, pour some water into your left hand to rinse your mouth. Never put the ladle directly to your mouth! 4. Finally, tip the ladle upward and rinse out all the water, and place it back where it was. Jokoro (常香炉) At the large bronze incense burner in front of the Main Hall, people bathe themselves in smoke of incense. It is said that when you bathe bad parts of your body with this smoke, it will get better - i.e. heads will get smarter, and back aches will get better.
Photo Source: Jalan

Main Hall (本堂) A national treasure, the 1,150 square-meter hall is divided into the naijin (inner sanctum) and the gejin (outer sanctum). The Bodhisattva Kannon, sits on the zushi (miniature shrine) called the gokuden in the center of the naijin. To worship at temples, throw in a saisen offering into a saisen-box, and join your hands in prayer silently. Do not clap your hands.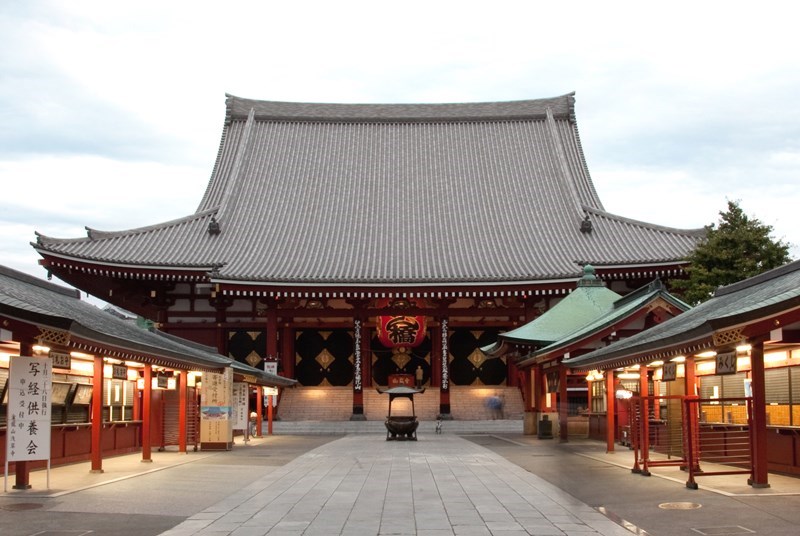 Photo Source: caname-jisha.jp

Omikuji (おみくじ) Omikuji are fortunes written on small pieces of paper, which can be purchased at temples and shrines. At Sensoji, it is said that there is a high chance of drawing "Kyo" (凶) meaning 'bad luck'. Once you draw an omikuji and it is not for good luck, you are recommended to tie it to a specified place so that bad fortune will not attach itself to you.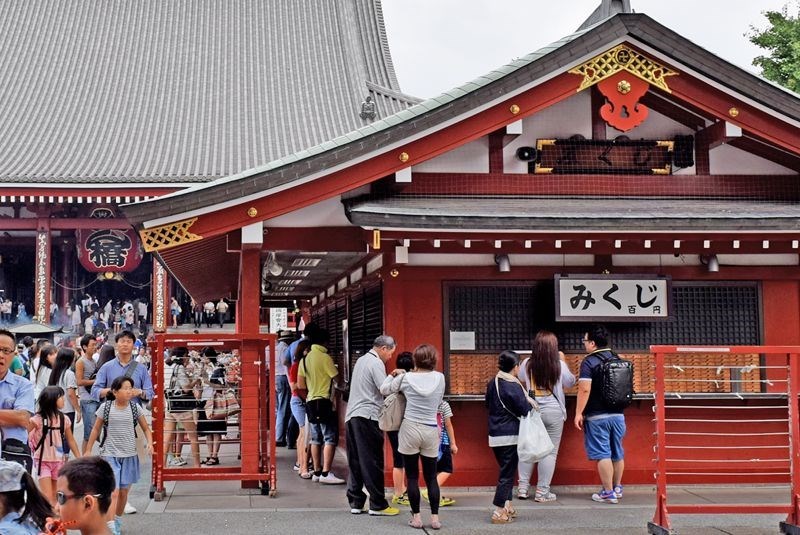 Photo Source: Plat by NAVI TIME
---
【Nakamise-dori (仲見世通り) for Street Food】 The approximately 250m long street with 90 shops from Kaminarimon Gate to Hozomon Gate is called 'Nakamise-Dori'. This is said to be one of Japan's oldest shopping streets, with more than 500 years of history. See our choice of 13 places with great snacks! Remember, eating while walking is considered impolite here - please eat quietly in front of the shops :)

Kagetsudo
Selling approximately 3,000 'Ganso Jumbo Melonpan' everyday, each Melon bun is made of slowly fermented bread dough. This makes it fluffy on the inside, and crispy on the outside!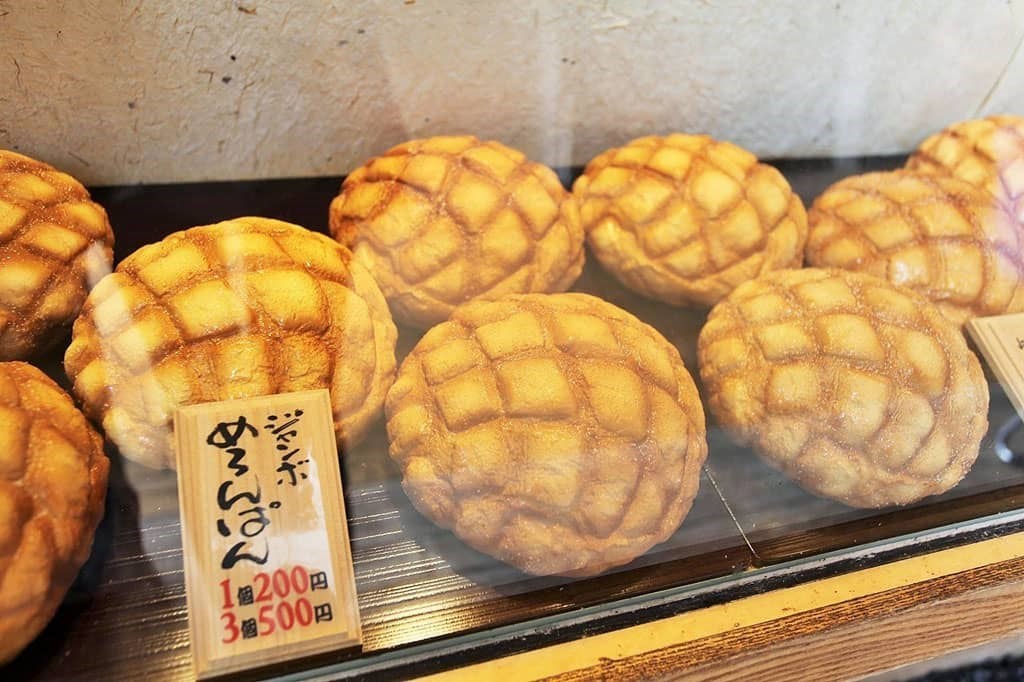 Photo Source: MATCHA
Kimuraya Main Store
Ningyo-yaki are small snack cakes made of flour, eggs and sugar batter poured into hot iron molds, usually filled with sweet bean paste. Kimuraya is said to be the first place in Japan to sell this local snack. Choose from a variety of shapes and an option of with or without the filling. Lasting for 1 week, it can be also taken home as a souvenir.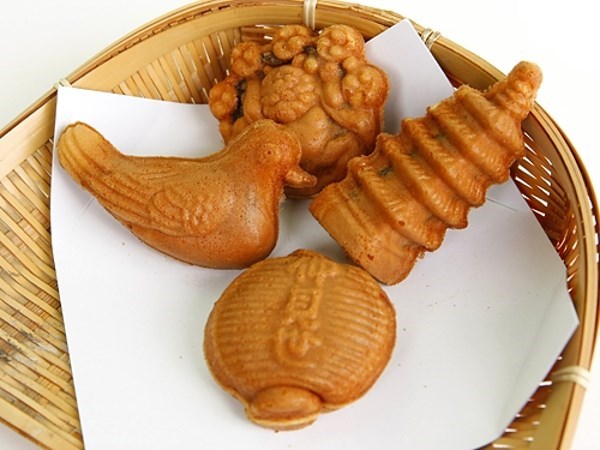 Photo Source: Nakamise
Kokonoe
Age-Manju is one of the most famous snacks in Asakusa; it is deep-fried manju bean pastry. At Kokonoe, manjus are made of selected local ingredients, and fried in high-grade oil at the shop so it can be eaten fresh on the spot.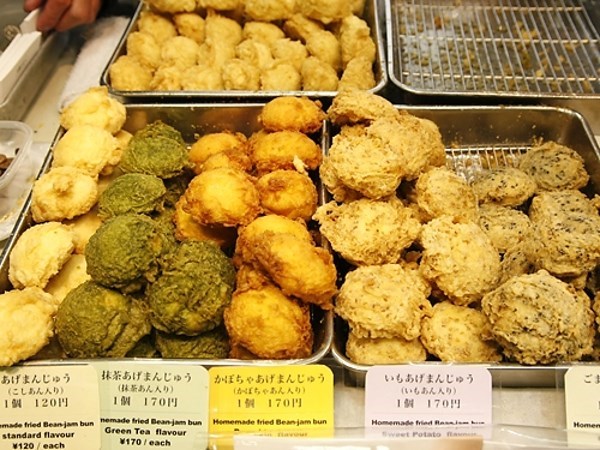 Photo Source: Asakusa Nakmise
Asakusa Chochin Monaka
Traditional monakas are wafers with sweet bean jam filling, but at this stall, lantern-shaped monakas are filled with ice cream instead. Choose from 8 assorted ice cream flavors of which 2 are limited only to that season!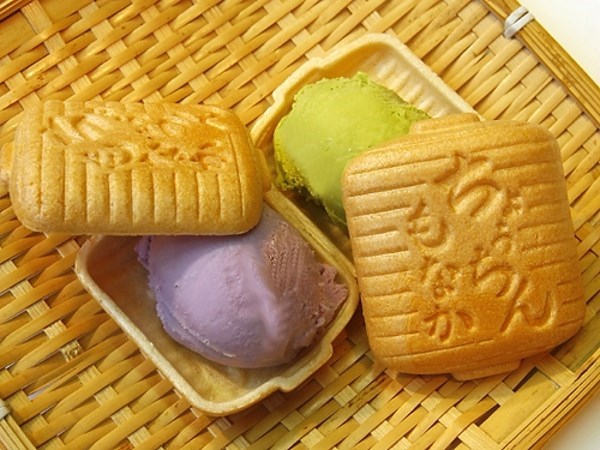 Photo Source: Asakusa Nakamise
Oimoyasan Koshin Asakusa Denpoin Higashidori Store
Established in 1876, this is a sweet potato wholeseller, which also sells desserts made of sweet potato. Using the best brand in the season, customers are welcome to purchase signature menu 'Daigakuimo' and 'Sweet potato cake'.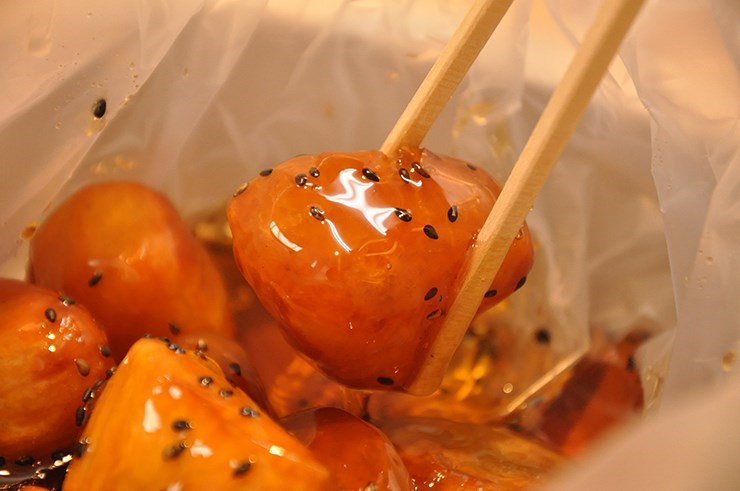 Photo Source: GOTRIP!
Anshinya
Famous for its 'Mochi-dog' and 'Sake Flavored Ice cream'. Mochi-dog is Anshinya's original dessert, which is like a sweet crispy dumpling, deep fried only after orders are taken.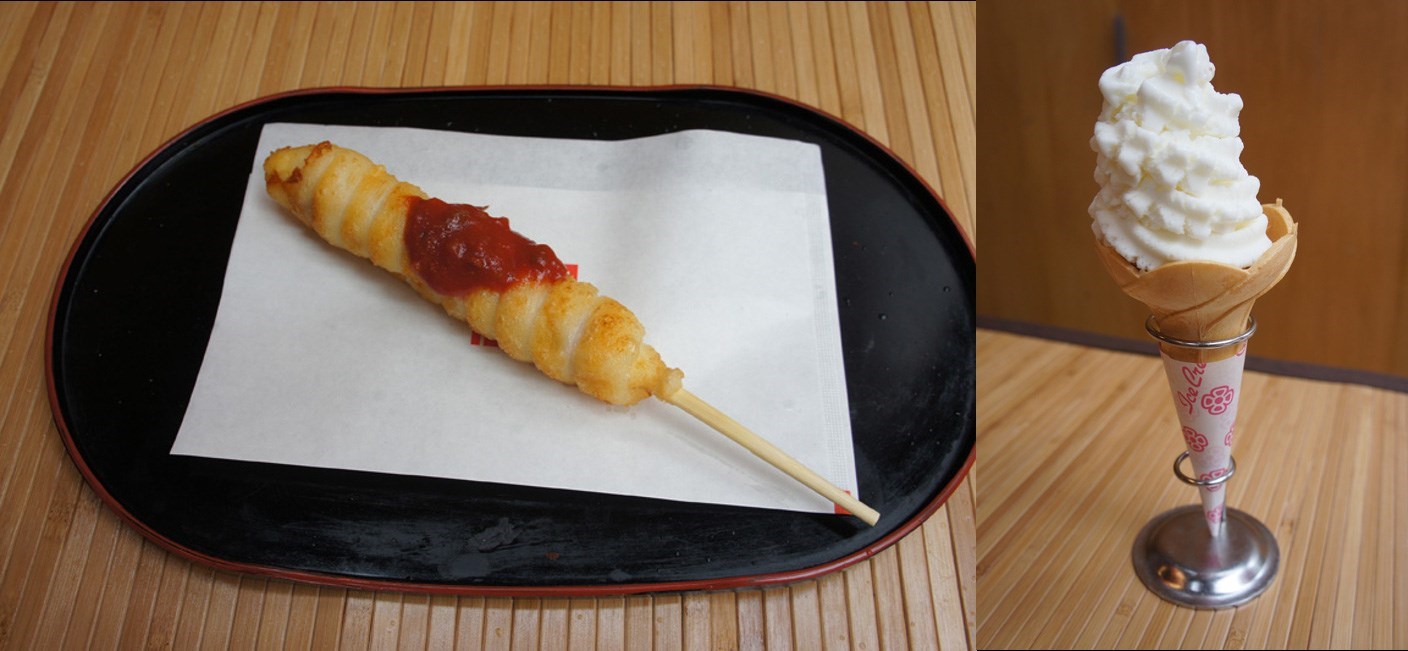 Photo Source: Tobu
Toyofuku
'Curry-pan' is Japanese deep-fried bun with curry filling. At Toyofuku with a history of over 100 years, the curry used in the bun is made of 100% Prime Japanese beef, coated with bread crumbs and deep-fried to bring out the best of its flavor.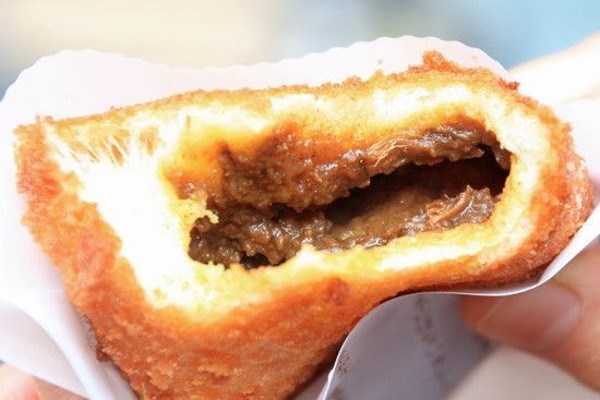 Photo Source: RETRIP
Asakusa Menchi
One of the most savory snacks in the area, Asakusa Menchi only sells 'Menchi-katsu' which is juicy meat patty, breaded and deep-fried. Selling over 4,000 a day, the long line of customers says it all.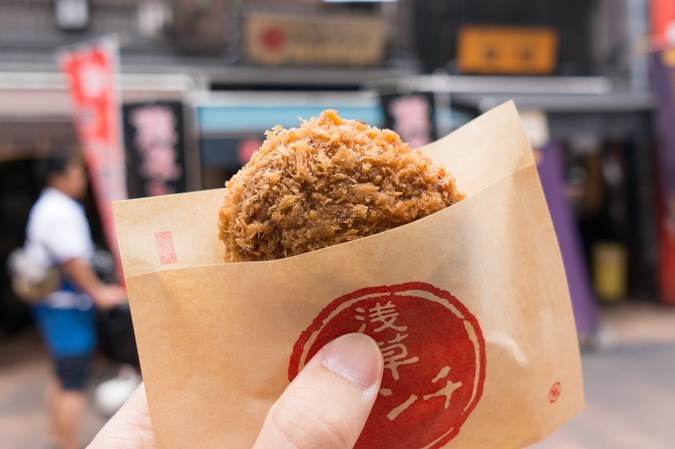 Photo Source: 東京ルッチ
Ichibanya
Ichibanya sells 'senbei' (rice crackers) which are freshly grilled at the shopfront. Each type of product uses different types of rice for the best taste. The crispy scent will definitely make you want to stop by for this Japanese treat!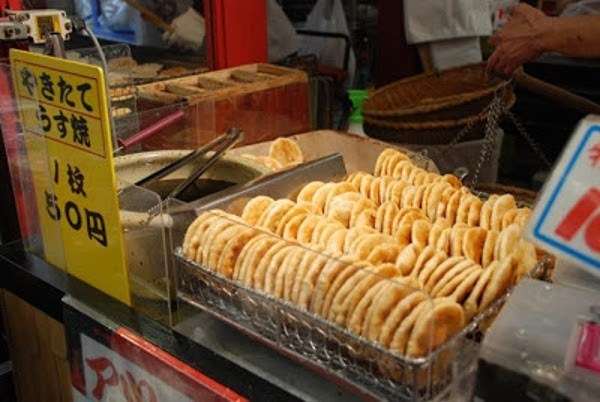 Photo Source: Chef Adriana
Kineya Shin-Nakamise Store
Kineya specializes in 'age-oyaki', which is another type of rice cracker. This one is crispy on the outside, and melts as you put it in your mouth. Each okaki is made by hand using high-grade charcoal, and its perfect saltiness attracts many customers from outside of Asakusa.
Kikuya
With over 100 years since establishment, Kikuya is famous for Daifuku and Dango (rice cakes and sweet dumplings). Signature dishes include the 'Mitarashi Dango' - soft and chewy dango with sweet topping, and 'Whole Bean Daifuku' - red bean paste wrapped in fine mochi.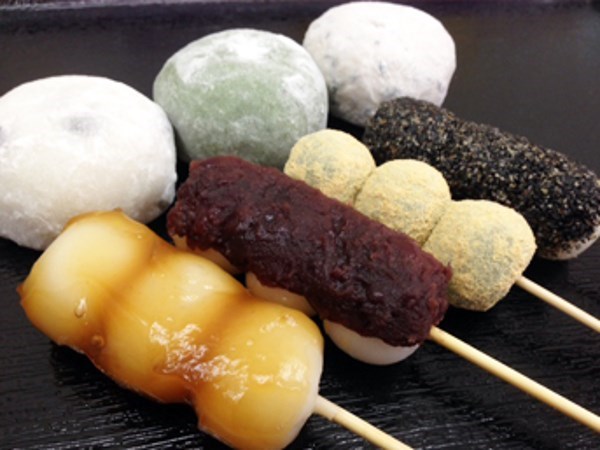 Photo Source: Kikuya
Azuma
During the Edo period, "Kibi-dan-go" was popular on Nakamise-dori. This is a sweet dessert made with Kibi (millet) powder and sweet rice, coated with Kinako (soybean flour). Enjoy it with cold matcha tea in the summer, and Amazake (sweet rice sake) in the winter!
Kameju
Come here for the best 'Dorayaki' in Asakusa! Dorayaki is a Japanese pancake, stuffed with sweet red/white bean paste. Fluffy yet not too sweet, this is a must-stop-by for all anko lovers!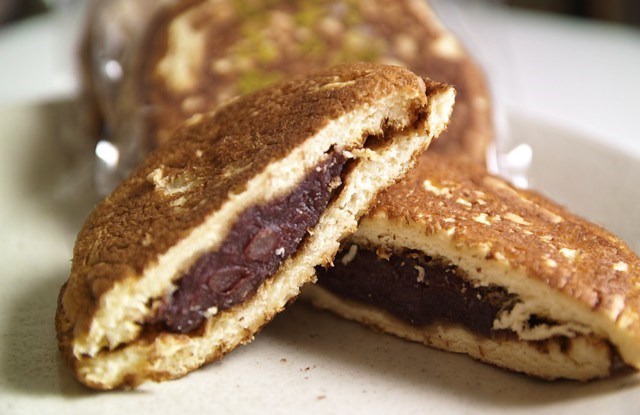 Photo Source: macaroni
---
【Explore in a Kimono♪】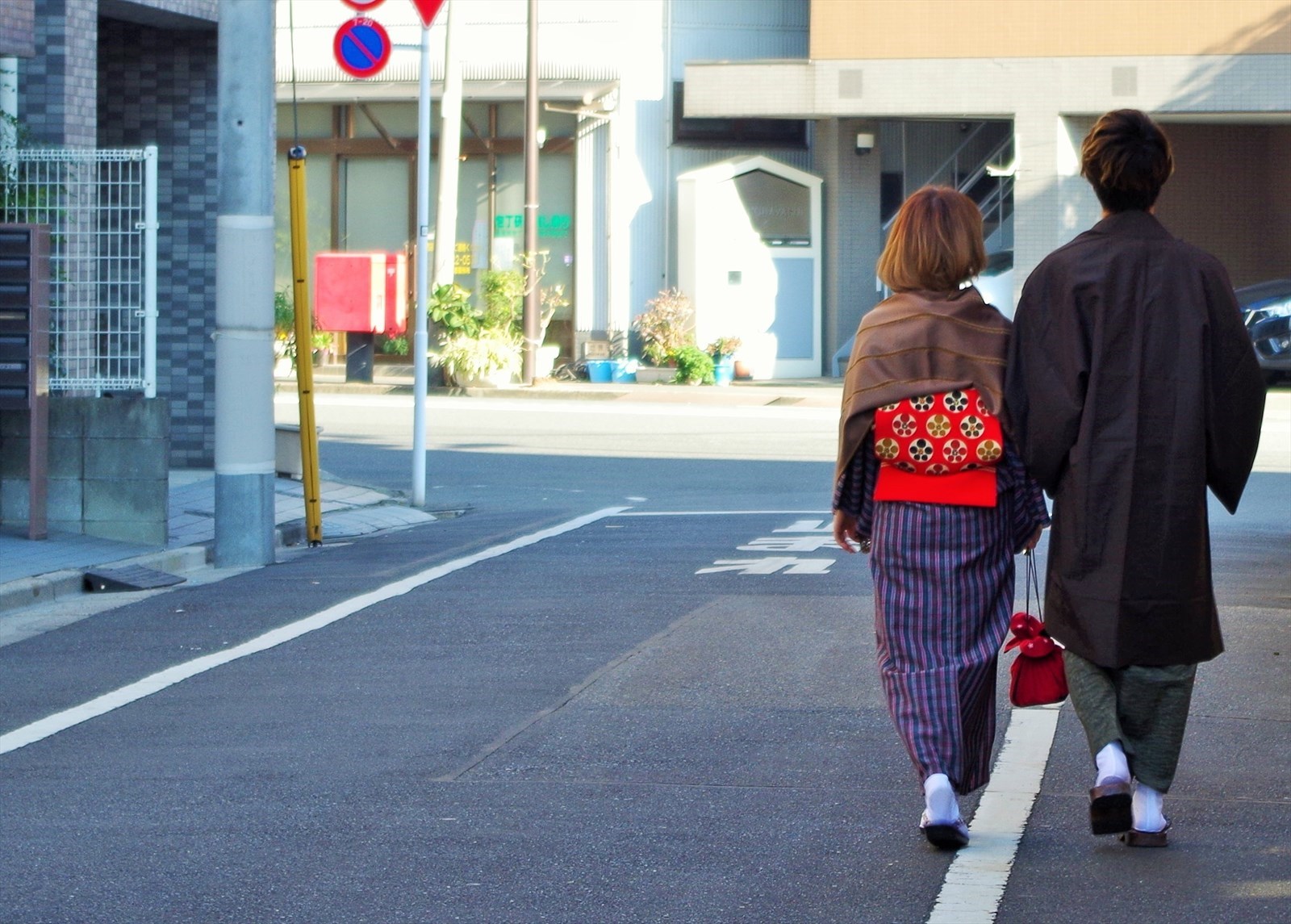 Photo Source: Jalan

On your visit to Asakusa, why not wear a kimono to the Sensoji Temple? These places below rent full sets of kimonos for your memorable experience! 1. Nadeshiko Asakusa EKIMISE Store Rent brand new kimono for your Asakusa trip! If you like it, you can purchase the whole set afterwards. [Info] Address:4/F EKIMISE, Asakusa Station Building, 1-4-1 Hanakawado, Taito-ku, Tokyo Opening Hours: 10:00-20:00(Return by 19:30) http://www.kimono-yamato.co.jp/ekiren/asakusa 2. Kyoto Kimono Rental 'wargo' Their collection includes modern kimono designs. Reasonable price, with a wide variety of patters to choose from! [Info] Address:1-2/F Atrie Building, 1-41-8 Asakusa, Taito-ku, Tokyo Opening Hours: 9:00-18:00(Return by 17:30) https://kyotokimono-rental.com/asakusa/asakusa-access/asakusa 3. Asakusa Aiwafuku At a convinient location, 2 minutes from the station. With English & Chinese speaking staff! [Info] Address:1-3/F NW Bldg, 1-11-4 Hanakawado, Taito-ku, Tokyo Opening Hours: 9:30-18:00(Return by 16:30) http://aiwafuku.com/