Antonio Inoki Sakaba

Whether or not you're a fan of Antonio Inoki -- the 1.91-meter tall retired Japanese professional wrestler and politician -- you are going to have a night of massive fun at Antonio Inoki Sakaba Shinjuku! Located only one minute from Shinjuku Station, you'll easily find your way to the underground sakaba as you see Inoki's iconic image on the shop front, and probably a female waitress in cheerleader outfit welcoming you inside.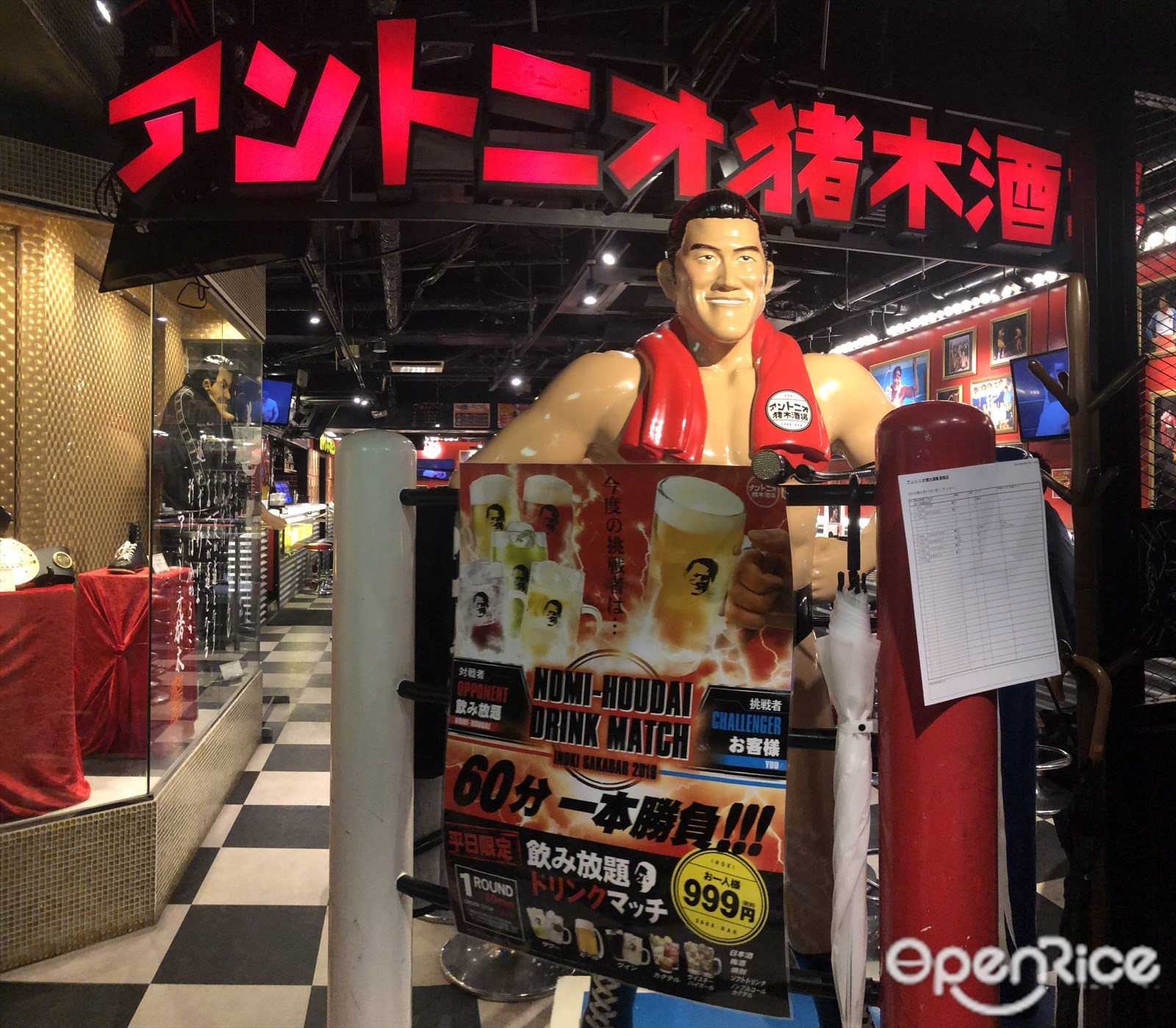 Retro colors
This izakaya will take you back in time as it showcases checker tiles in black and white, smile round backless chairs in red and black, a lifesize Inoki, and many photo frames capturing Inoki's victorious moments in his professional wrestling career.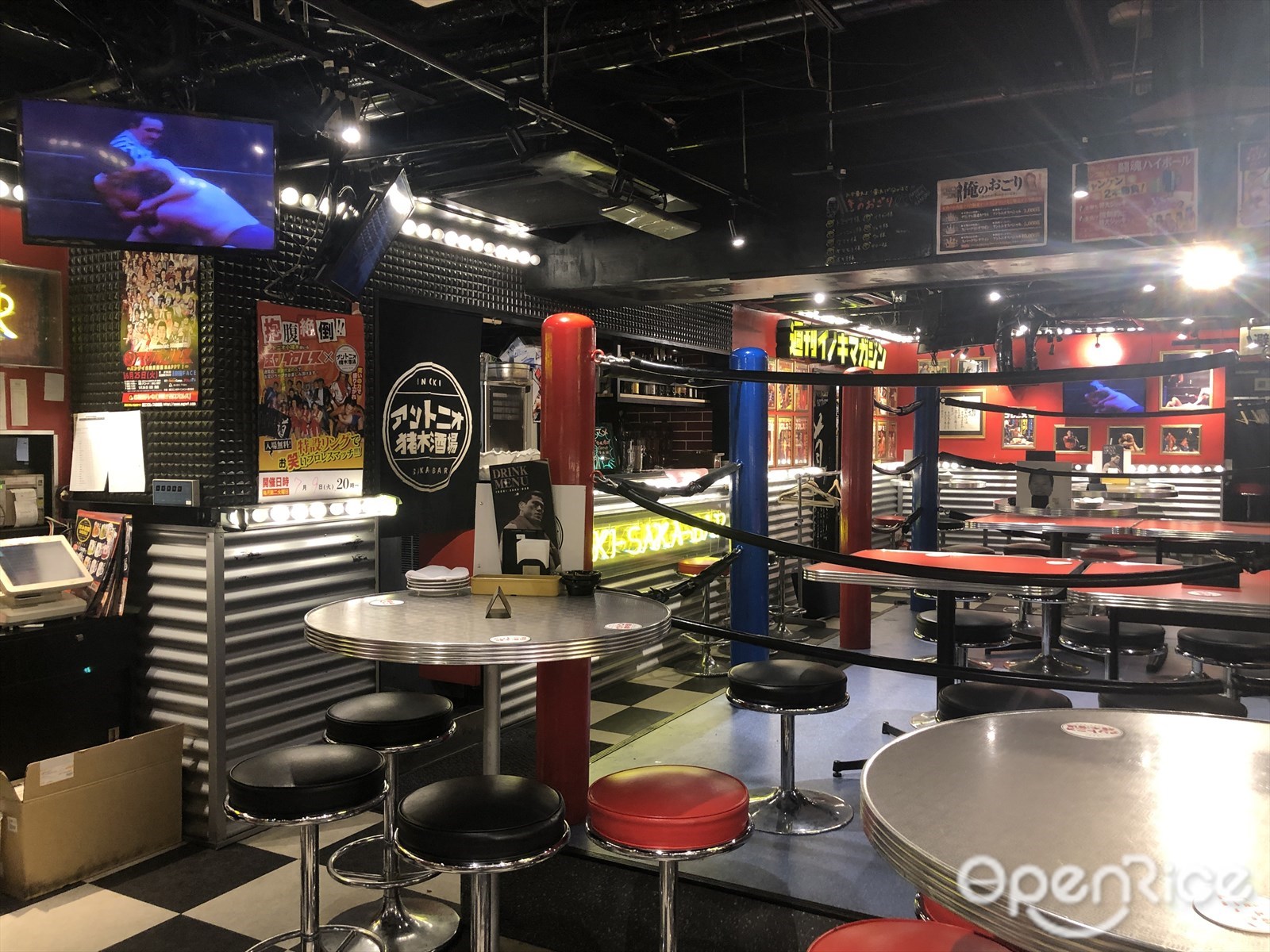 The most conspicuous part of the restaurant, however, has to be the wrestling ring in the middle of the restaurant. On the second Tuesday of each month, there will be live wrestling matches at the restaurant -- the restaurant tends to be fully booked on those days so make sure you reserve early if you'd like to watch a match while you eat!
Their mega-sized items
This restaurant's menu is easily a theme park for your eyes -- so many interesting-looking foods and of course, Inoki is everywhere on its pages!
The "Shaka Shaka 123 Salada" is a must-get. Literally, your waitress will come to your table with a well-shaken up tube of salad, and invite you and everyone else in the restaurant to join a chant before she plunges the tube onto a big plate.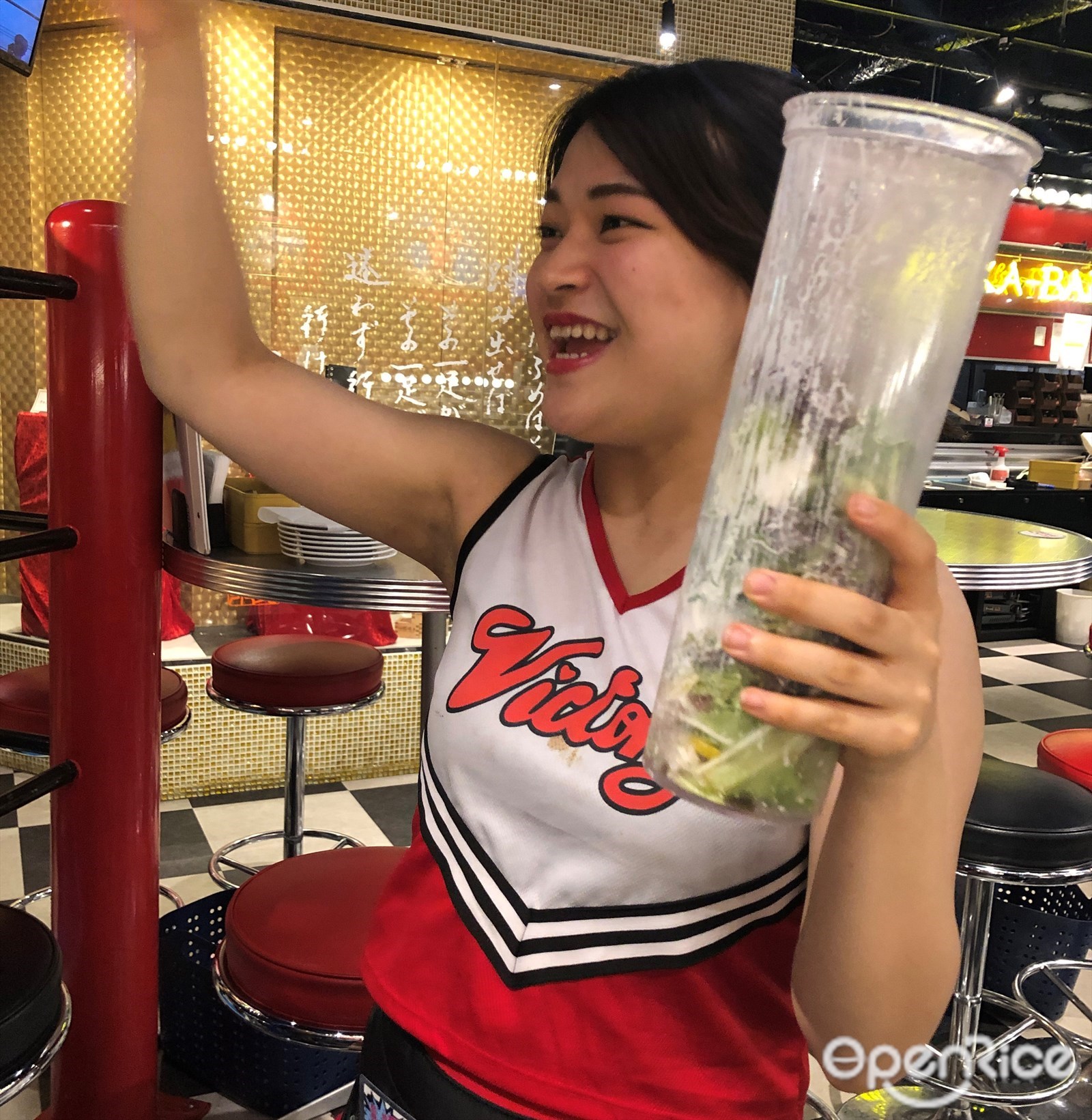 Many items on the menu are unique to Antonio Inoki Sakaba, like the 60 centimeter-long "Cobra Twist" wiener sausage, big fat "Antonio Rib" available in sizes for one to seven people, and 33 centimeter-high "Sky Tower Onion Lariat."
Of course, their drinks will bring just as much surprise to you as their food does. If you'd want to have a go and try sucking a bag of drips, grab your chance here! They are available in red -- watermelon-flavored -- and white -- peachy yogurt-flavored.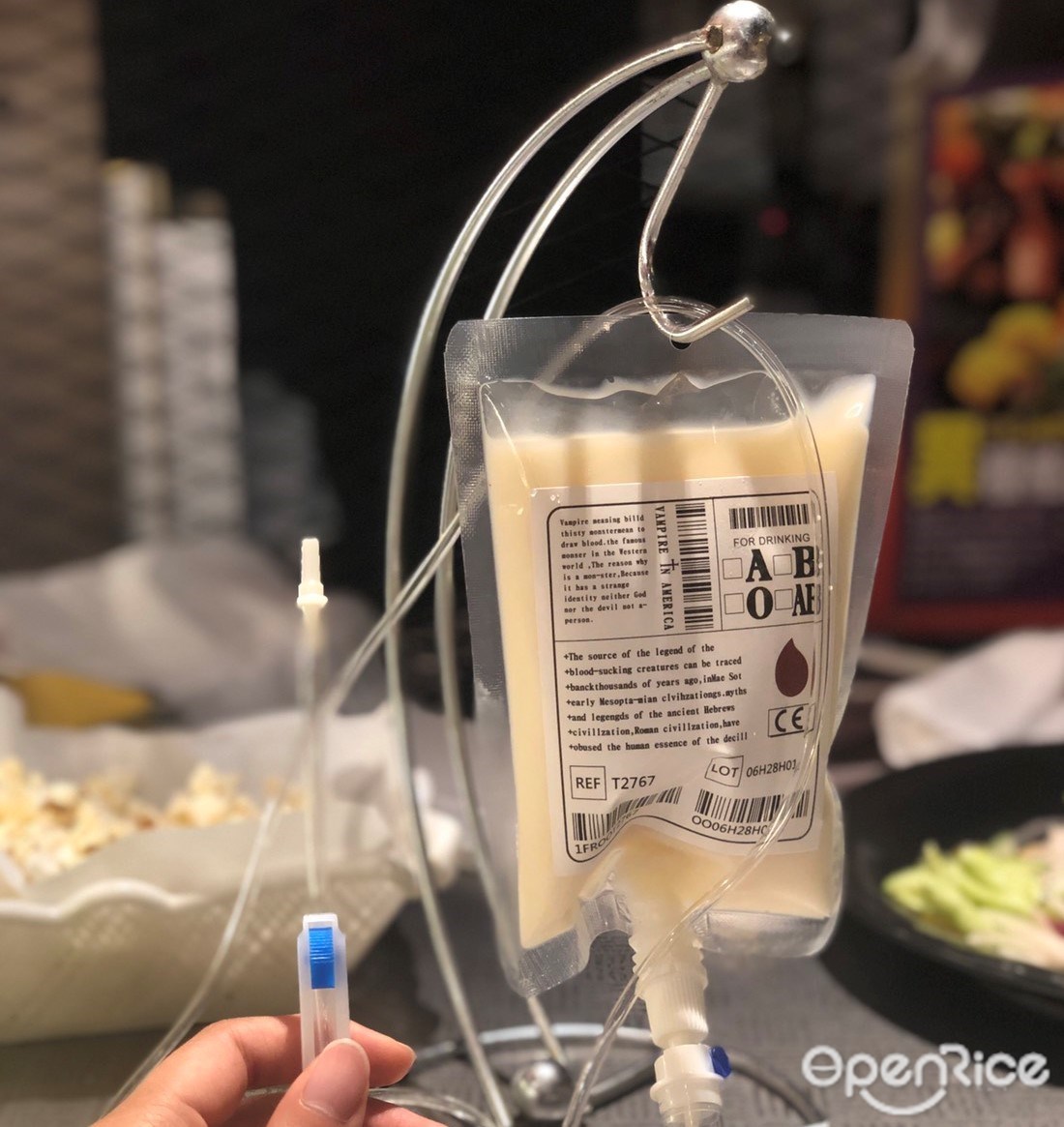 To end your meal, get ready for some great sugar rush from their cotton candy pudding that weighs 1 kilogram in total!
Rock Paper Scissors Party at 8pm
Every night at 8pm, your lovely waitresses will dance in front of the wrestling ring and high-five with you if you're not too busy shaking your tambourines. Then, everyone in the restaurant will play rock-paper-scissors with one of the waitresses. The winner, first and second runner-ups will receive special Antonio Inoki prizes and take pictures with the champion belt. It's all about human interaction at this izakaya!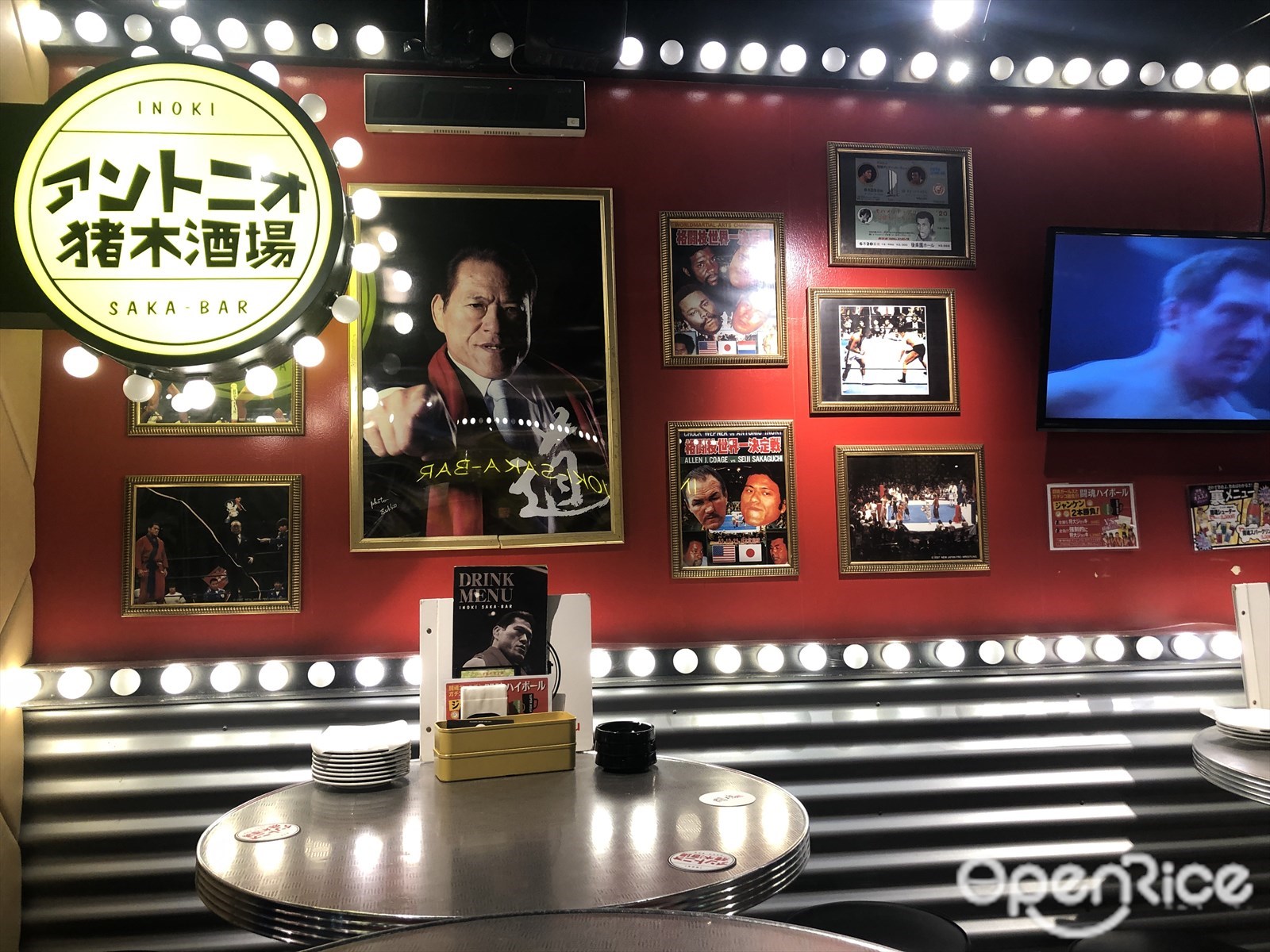 Tsubakiya
Simply put, you can have way too much fun at Antonio Inoki Sakaba. However, if you'd like to cool down and call it a day without getting wasted, head over to a closeby cozy Tsubakiya Cafe. This classy, quiet cafe chain embraces the Taisho-roman style and serves high-end coffee in Royal Copenhagen porcelain. Waitresses here also wear a maid uniform, though not quite the same as that of the otaku-style maids in Akihabara!








View this post on Instagram
You May Also Like:
The Lockup - A prison-themed izakaya where you're arrested as soon as your arrive! Each party is escorted to their own dining cell, where you'll catch 1 of 3 terrifying blackout shows. Check out the official website here!








View this post on Instagram
Ninja Shinjuku - a ninja themed izakaya where you can enjoy cool magic shows while you dine! You can also try on ninja costumes if you reserve in advance. Check out the official website here!








View this post on Instagram
Alice Fantasy Restaurant - Alice in Wonderland themed restaurant. There are currently seven restaurants around Japan, each featuring a different area Alice visits in Wonderland. The Shinjuku Branch is Alice in Fantasy Book. Check out the official website here!






View this post on Instagram