If you are a fan of Japan and video games the following recommendations are for you. In this article, we are recommending three restaurants that are themed after popular japanese video games. But before we start, it is important for you to know that many themed restaurants are more about experiencing the unique atmosphere than the dining itself. That is why some restaurants are not for everyone, but if you are a fan, you definitely want to visit at least once.
Pokemon Cafe






View this post on Instagram
The first one is themed after one of the most popular game and anime, Pokemon Cafe It is located approximately 4 minutes from Nihonbashi station by foot, but the building itself does not have a sign outside for "Pokemon Cafe"; instead look for "Pokemon Center". The real Pokemon themed design is in the food, drinks and tableware. We like the Pikachu Curry (1598 JPY), a Pikachu face fashioned from rice, surrounded by curry, but be sure to check out their special menu for seasonal offers. If you order the Pokemon Latte, you can choose from 251 pokemon designs to have printed on your latte foam (756JPY). Your drink will come in a pokeball mug! If you want to take the mug home, you can choose either Pikachu or Eevee (1836 JPY).






View this post on Instagram
Because "Pokemon Cafe" is extremely popular and almost always full of people, you will need to book ahead of time. The earlier you book, the better as there are times that they are fully booked for the next month. Don't worry if you do not know japanese, you can book your spot on the homepage in english.
Final Fantasy Eorzea Cafe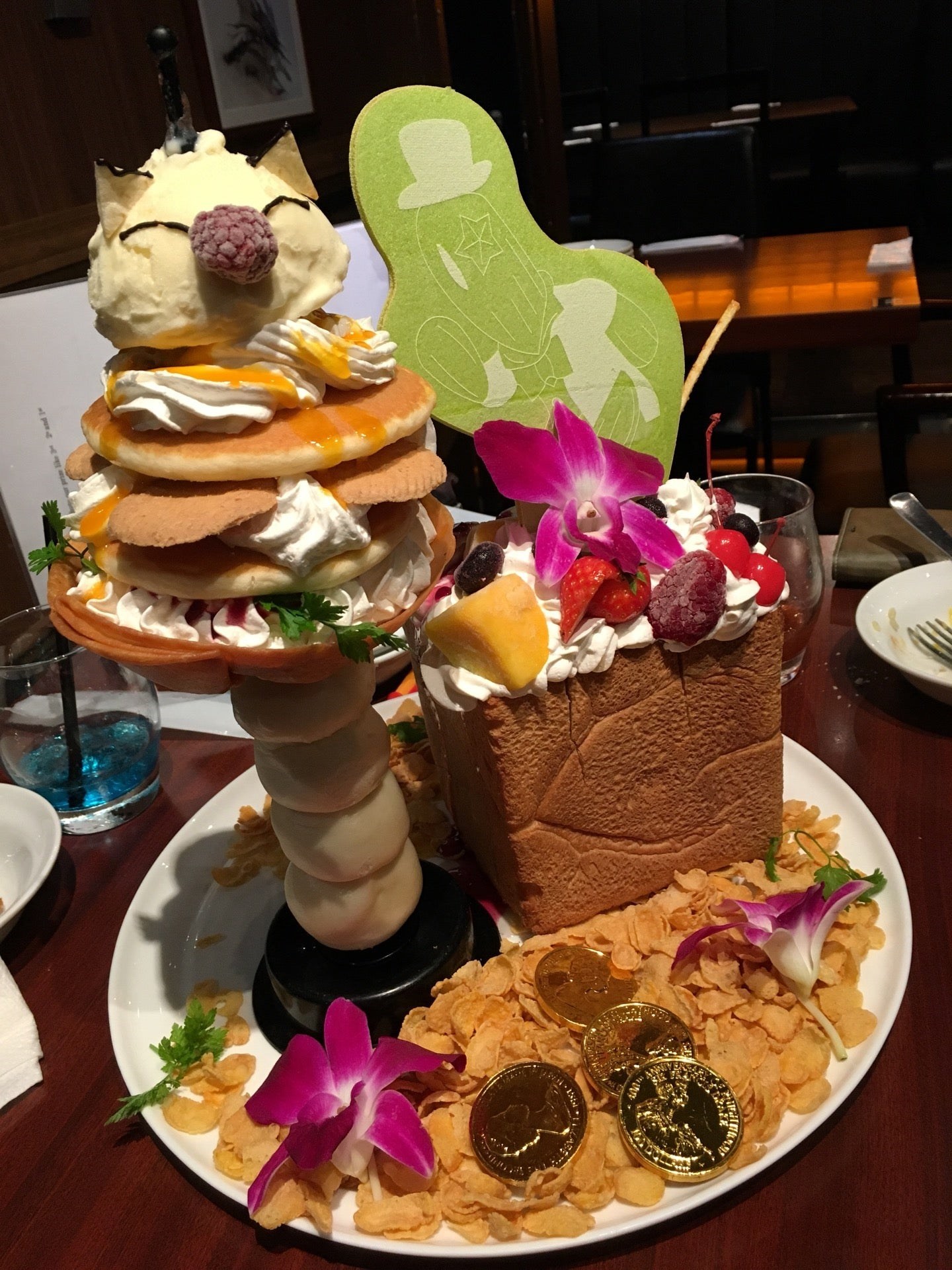 Photo TsuiRen Clover on Foursquare

This cafe is located about 10 minutes from Akihabara Station, Electric Town Exit, and themed after the popular mmorpg, Final Fantasy XIV. We recommend this place to any fan of the Final Fantasy series. Unlike the Pokemon Cafe, the interior is full of items taken from the game, such as a huge map of Eorzea, replica weapons and beautiful stained glass windows. And lets not forget that every meal and drink is themed and designed after a character or a monster from the games. Such as the Nidhogg eyes, two fried meatball with eggplants as pupils (1280JPY). More than that, you have a chance of winning a prize just by eating there, it can be a cute souvenir and even a free dessert. So keep your ticket safe as it is also your lottery ticket.








View this post on Instagram
Now here is a little catch, this place works on reservation only and on specific time slots. Making a reservation is not impossible but its not as simple as the Pokemon Cafe. First option is to make it at the home page, but it is fully in japanese and you will need to pick up your tickets from a Lawson store. You can use this link for instructions in english of how to do this. A second and more simple option is to go to the front desk at Akihabara early in the morning and buy a ticket. Luckily it is in Akihabara so you have plenty of things to do while you wait for your time slot.
Hunters Bar
If the interior design of the Final Fantasy Place got you excited then you will fall in love with the "Hunters Bar" in Shinjuku. This bar is themed after "Monster Hunter World" and took its design to a whole new level. The bar looks like the inside of one of the ingame rooms with a fully wooden interior. Everywhere you look there is something from the game such as flags, replicas of weapons and even a life-size Palico doll to greet you when you enter. There are four PS4 consoles for you to play with friends and other customers while you wait for your order.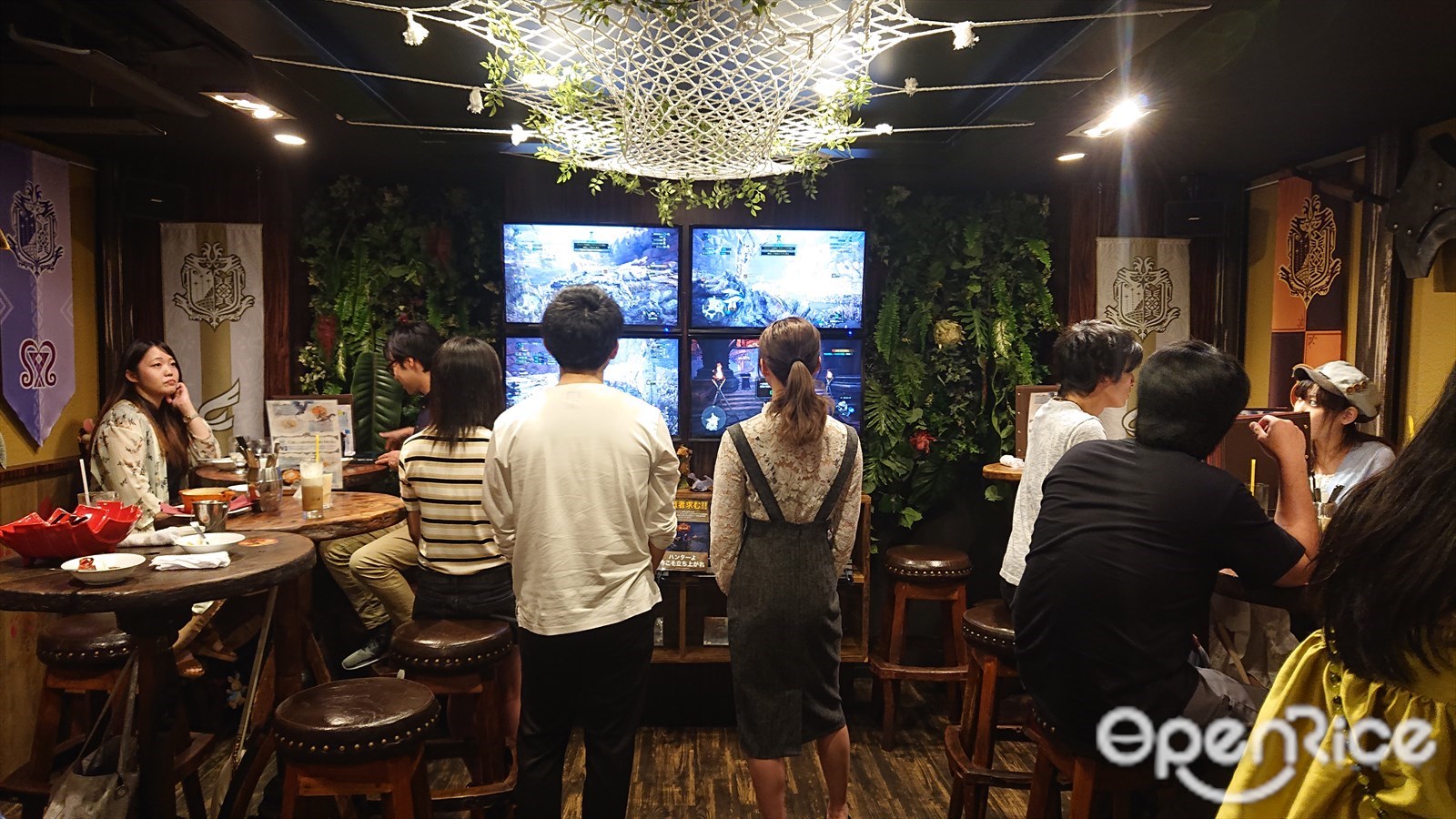 When it comes to food and drinks, not only are they themed after the game, many of them are taken from the many meals in the game that you eat before embarking on a hunt. Unfortunately they are not made out of monsters and the size got scaled down a bit, like the Roast Chicken (2990 JPY) and Well Done Steak (880 JPY). Of course you can wash all the food down with one or more of the alcohol options that are themed after the various monsters you hunt in the game. You can also try "monster hunter wine", or the "Admiral's Beer" - a 1 liter beer that comes in the iconic huge wooden mug found in the game (1490JPY).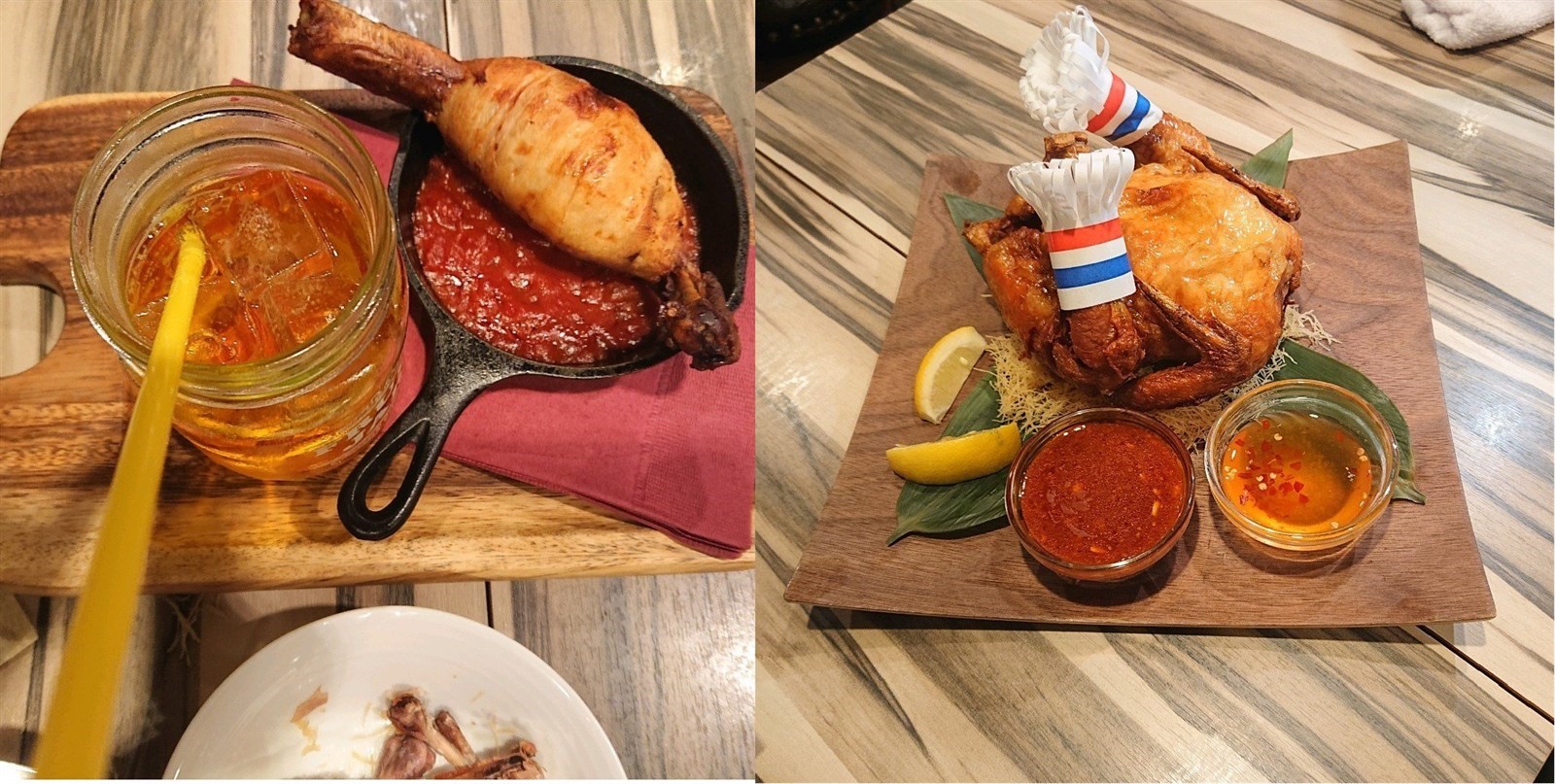 photo: orymor



The bar is located only 10 minutes from Shinjuku station so make sure to take exit 15B to make your way there. However before you go, there are a few things you might want to know. It is possible to go there without making a reservation but we recommend you make one, as it is very easy to make one on the

home page

. Another thing you need to know is that they charge each person 500JPY table charge, but in exchange you will get some table snacks and a coaster souvenir.