Odaiba is a popular waterfront area close to central Tokyo connected by the Rainbow Bridge. The area is a popular area for any sort of outdoor gathering among tourists and locals alike. Odaiba is a short train ride away from Shimbashi or Shinjuku on the Yurikamome line or the JR Saikyo line respectively. This area is known for the recently moved Tsukiji Fish Market (now, Toyosu Fish Market), shopping centers, parks, and entertainment facilities.

When you get tired of wandering around the waterfront, or simply feel like it's time for a meal, rest assured that this area has a variety of eateries to choose from


Roku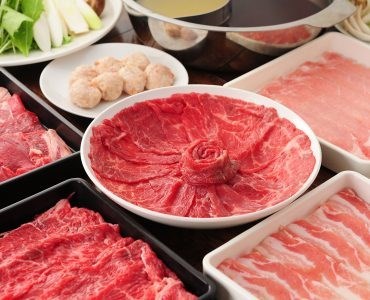 (Photo: Roku-odaiba)

For those of you who prefer variety in terms of cuisine, Roku is your answer. The restaurant offers a buffet, dim sum and shabu shabu, and stunning night views of Odaiba. The restaurant offers a popular hour and 40 minute all-you-can-eat shabu shabu and dim sum course for 3,300 JPY. For all you shabu-shabu lovers out there, Roku offers a 100 minute all-you-can-eat shabu-shabu course for 2,800 JPY. The food ranges in price from 3,000 JPY to 4,000 JPY during lunch hours and 4,000 JPY to 5,000 for evening meals. The restaurant is open Monday through Sunday from 11:00 AM to 22:00PM.
Gonpachi Odaiba Store
Like Roku, Gonpachi offers not just one, but a variety of options for the adventurous eater. The restaurant offers a traditional Japanese atmosphere, soba, izakaya-style appetizers and kushiyaki. Kushiyaki is grilled food, specifically meat or vegetables that are skewered. Well-known combinations of skewered food include beef, squid, and octopus, tofu, asparagus, and mushrooms. Yakitori, a well-known dish among foreigners, is actually a type of kushiyaki.
The restaurant is open from 11:30AM to 3:00AM Monday through Sunday. Prices for an evening meal range from roughly 900 JPY to around 3,000 JPY. For those of you are less keen on an evening meal, the restaurant also offers lunch options including soba lunches, and various "donburi" or rice bowl dishes, including oyako-don, a chicken and egg rice bowl, or katsu-don, a deep-fried pork cutlet rice bowl. Prices for the lunch menu range from 650 JPY to 1,480 JPY.


Rookie Cafe
Tokyo is known for its cafe culture, and Odaiba is no exception! Head over to Rookie Cafe, a 3-minute walk from Tokyo Teleport Station for healthy homemade doughnuts (180 JPY) and soy cream sodas (830 JPY). The fun and colorful interior makes for great instagram pics, and the comfy seating will help you relax after a day of exploring and shopping!
Rookie Cafe is open every day from 11AM~7PM.