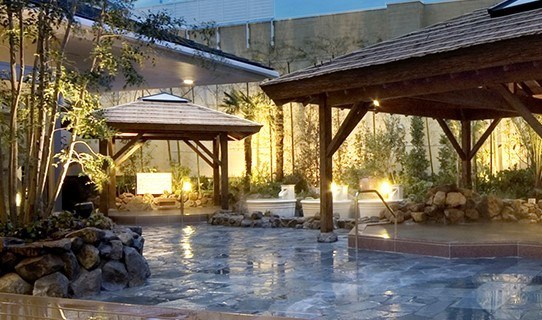 (source: Naniwa no Yu Official Website )

When we think of Osaka, the vibrant neon lights in the heart of Dotonbori and endless street food options may come to mind. However, while Osaka embraces some of the world's latest technologies, people there have continued to celebrate traditional ways, such as the sento bathhouse culture. This time we're going to introduce three of our favorite bathhouses, alongside the accompanying restaurants which will add a perfect finish to your bathing experience.

Naniwa no Yu
Located only 15 minutes from JR Osaka Station, Naniwa no Yu is an easy one-stop relaxation plus entertainment theme park for a busy tourist. On the eight floors of Naniwa no Yu are nine different types of bath, a game center, and three restaurants. Some of these natural hot springs allow you to sit in a pot, lay down on a shallow jacuzzi pool, or admire the everlasting flow of 100% spring water from 659 meters underground.








View this post on Instagram
Yuu Shokuka
Hana Ichiban
Rien

The three restaurants at Naniwa no Yu are also worthy of mention: Yuu Shokuka is famous for their upscale shabu shabu hotpot and udon (prices range from ¥580 to ¥1,580), while Hana Ichiban is more of a place for fast, casual deep fried snacks and soup noodles (¥250 to $1,180). On the 1st floor, you will also find a Korean barbecue restaurant that offers fair-priced lunch sets (¥780~¥1,590) and a satisfying a la carte menu.
Naniwa no Yu is open from 10AM to 1AM on Mondays to Fridays, and 8AM to 1AM on Saturdays and Sundays.
Only 15 minutes from the Kansai International Airport and 1 minute from the Rinku Outlet, Rinku no Yu has you covered if you're looking to refresh before or after you fly. There is a total of six different baths, with some themed accordingly to the season. If you go at the right time, you can even watch the sunset while you bathe in one of their outdoor baths. Moreover, Rinku no Yu offers bedrock bath, where you lay down on heated rocks and let the heat wash the toxins out of your body. Before you leave, make sure to check out the grand collection of 30,000 comic books and magazines Rinku no Yu has to offer! You can spend a whole day here.
Rinku Chaya
The restaurant inside Rinku no Yu -- Rinku Chaya -- aims to provide a welcoming atmosphere where families and friends can relax on the floor while surrounding a table. Main items include rice and noodles that are fairly priced between ¥200 and ¥980. Hot tip: the rice for any teishoku set is all-you-can-eat!
Rinku no Yu is open from 9AM to 1AM from Mondays to Fridays and from 7AM to 1AM on Saturdays, Sundays and public holidays.
Ranked by popular onsen directory site Nifty to be one of the Top 20 Onsen in West Japan, Kutsurogi no Sato Yuraku has two themed areas: the Rocks area and the Cypress area. For the Rocks, it is open to male on odd days and to female on even days. Besides the expected views of rock-surrounded baths, the Rocks area entails unique baths such as the Dead Sea bath where one floats, geysers that oversee water shouting out from 1,050 meters underground, and lay-down jacuzzi bath.
On the other hand, the Cypress area is open to female on odd days and to male on even days. Here, you will notice the Cypress fragrance from wooden benches while you soak in special baths such as the milky bath, the children's bath filled with yellow rubber ducks, and the beating bath where a strong strand of spring water hits the acupuncture spots of your head.
Yuraku-tei
The internal restaurant Yuraku-tei offers both Japanese and Korean food items, as well as an extra seasonal menu. Get ready for their big portions! Prices here range from ¥232 to ¥1,167.
Kutsurogi no Sato Yuraku is open daily from 10AM to 2AM.
http://osaka.yuraku4126.com/index.html