Zuishin-In Temple (随心院) is a Shingon Buddhist temple known for its connection to the famous beauty and poet Ono no Komachi. Because the temple has such a connection, Japanese art duo Daruma Shoten created a custom art screen for the temple's outer drawing room. The screen art (小町絵図) depicts scenes from Ono no Komachi's life in colorful computer-generated art style. Zuishin-In is located near Ono Station, which is about 25 minutes by train from JR Kyoto Station.

General admission fee (adults): 500 JPY
Visiting hours: 9:00-17:00
Source: zuishinin


Source: Zuishin-in Temple (facebook)
Daigoji is a World Heritage Site, and home to Kyoto's oldest verified building, a 5-story pagoda built in 951. The temple is home to important historical buildings and artifacts, but with weather permitting, visitors should budget about an hour to hike the trail up the mountain to Upper Daigo, the original temple grounds. Daigoji is located closest to Daigo Station along the Tozai line, only 1 stop away from Ono Station.
General admission fee (adults): 1000JPY
Summer visitation hours: 9:00-17:00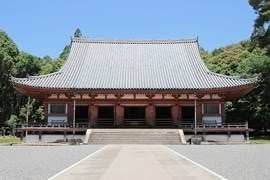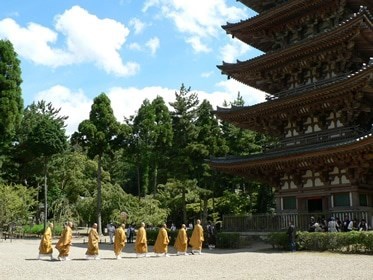 Source: daigoji
Gozan Cuisine Ugetsu-chaya Main Store

Ugetsu-chaya is a traditional Kyoto cuisine restaurant inside a well preserved historical building. They have many set meals like Ugetsu (1,760JPY) which is a vegetarian set with many different dishes such as rice, soba, vegetables and more. For a smaller option there a dishes like the Sanpo Soba (1,210JPY) that comes with tempura and a side of sushi. All their dishes focus heavily on seasonal ingredients.
Source: daigo-ugetsu
Gozan Cuisine Ugetsu-chaya Main Store is about 10 minutes from Daigo station and right outside of Daigoji. Their close location to Daigoji makes it an ideal location for lunch or early dinner before or after visiting the area.
Shimomura
Shimomura is a small soba shop and is a popular lunch spot thanks to its close proximity to Daigoji and affordable prices. They specialize in handmade soba with buckwheat flour from Hokkaido. Some of their dishes include the Nishin Soba (1,000JPY), Yamakake soba (1,000JPY) and Yuba Soba (1,000JPY).






View this post on Instagram
Shimomura is located about 10 minutes from Daigo station and is open from 11:00-16:00.
Hana Tanuki Yamashina Ekimae Store
Hana Tanuki is a large and spacious restaurant that mainly focuses on okonomiyaki among other dishes. They have a special Okonomiyaki called Tanuki-yaki that uses aburakasu. Local specialty aburakasu is made by slowly deep frying beef intestines, enriching the flavor and making it crunchy on the outside, soft inside. Tanuki-yaki comes with other ingredients such as pork (970JPY), Mochi cheese (1,080JPY) and other options.
Source: hanatanuki
Hana Tanuki Yamashina Ekimae Store is next to Yamashina and Keihan Yamashina station. Many travelers use this station to change from the Tozai line to the JR back to Kyoto station. This makes it an ideal stop to eat dinner before changing lines. Hana Tanuki is open from 16:00-22:00.

NOTE: Due to the on-going COVID-19 Pandemic, the business hours of the shops above may differ from the hours listed on OpenRice JP. Please confirm with the shop directly before your visit.