Dotonbori - the busy downtown district, located in the heart of Osaka. This includes large areas covering shopping districts, amusement facilities and dining places. A great location, suitable for both first time and repeater visitors!

With Neon Lights and Giant Signboards Back in the 1600s when the Dotornbori canal was first expanded, many tea shops and small theatres flourished in business. Today, the Dotonbori area is famous for its nightlife and entertainment, and as a great photography spot with its flashy restaurant signboards!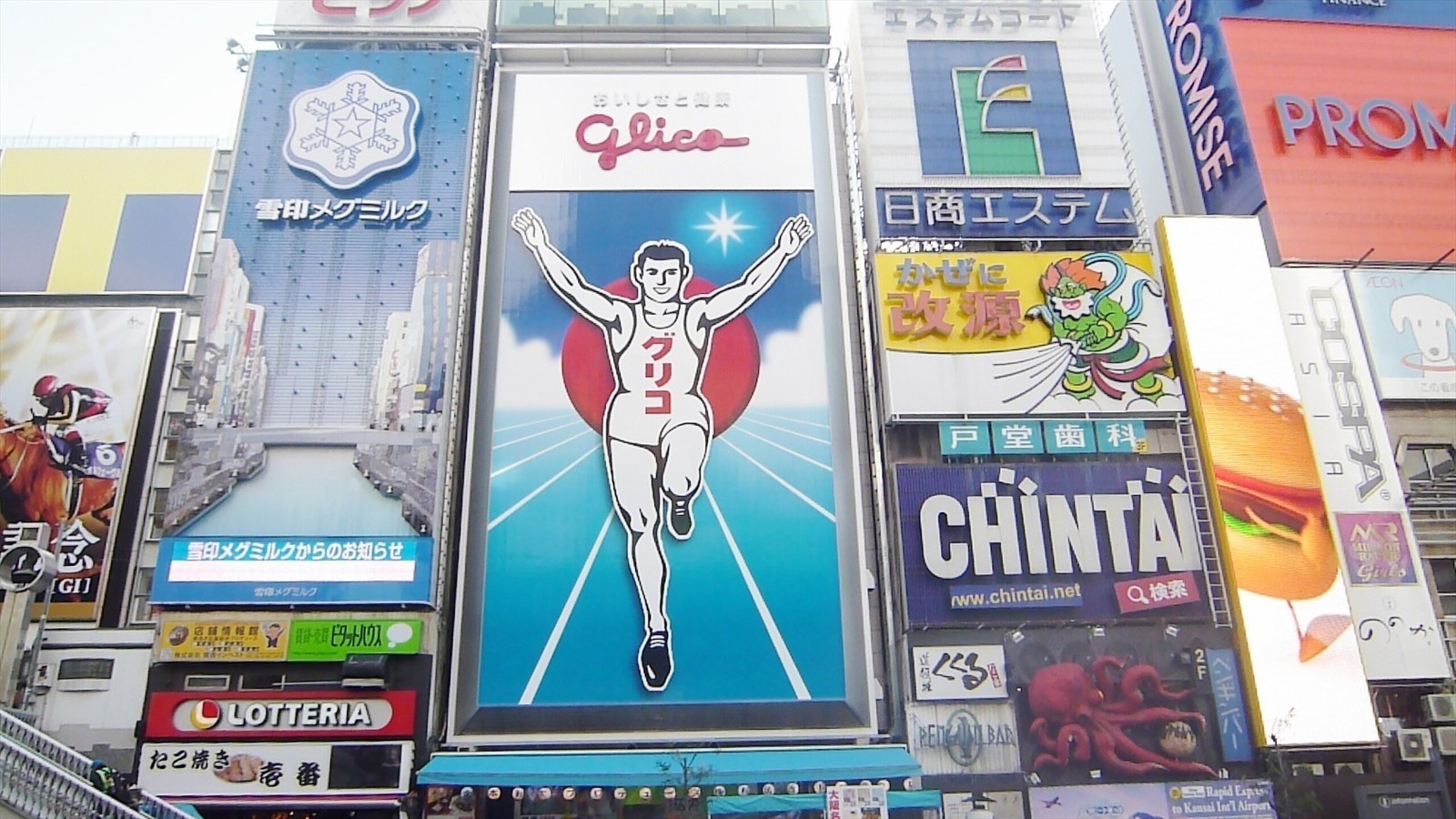 Photo Source: Glico
Immerse yourself in "Kuidaore" Culture Kuidaore (食い倒れ) meaning "to get poor from spending money on food", is a common phrase which express Osaka's passion for food. With this culture taking root, you can expect to find the best of Japanese foods in Osaka. Another aspect of Osaka food culture is the 'Signboard Art' on the streets of Dotonbori. See our list of the most fun and popular restaurant signboards for a great selfie or your kuidaore experience!
---
#01.
Kushikatsu Daruma Dotonbori Store
A chain Kushikatsu restaurant, with an eye-catching signboard of an aggressive-looking man. It is rumoured that the model is Daruma's chairman!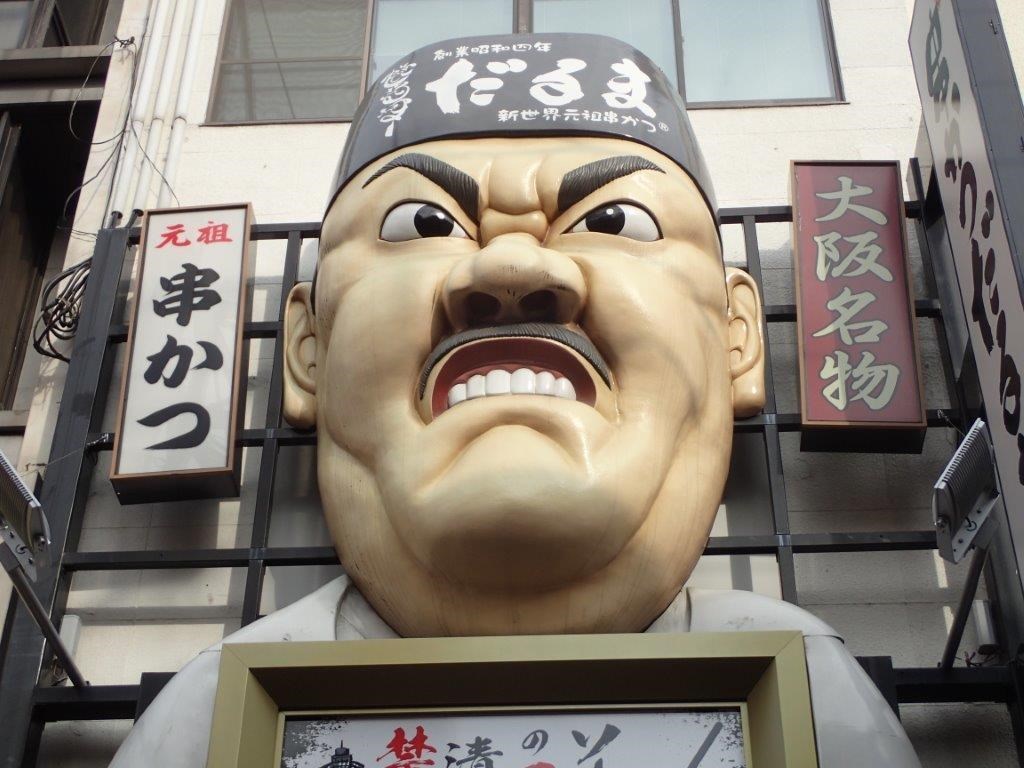 Photo Source: Kokishin Kyoto
---
#02.
Kinryu Ramen Dotonbori Store
One of the most famous ramen shops in Dotonbori area, Kinryu Ramen is known for its huge dragon signboard piercing through its walls. The green dragon's posture with a golden ball in its mouth and a red ball in its hand, is said to bring good luck. Their signature dish 'Kinryu Ramen' comes with free toppings - kimchi, garlic, and leek.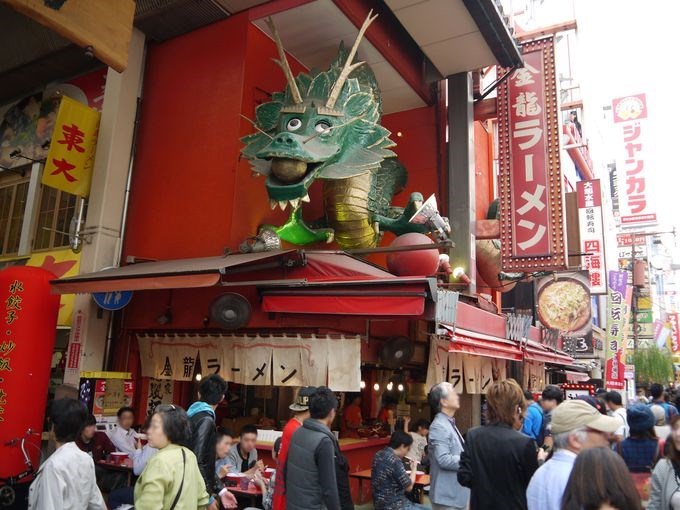 Photo Source: Travel.jp
---
#03.
Genroku Zushi Dotonbori Store
This is the world's first Sushi-go-round restaurant. Its symbol its unique signboard, with a large hand grabbing a large tuna sushi. Enjoy classic and seasonable sushi for a reasonable price.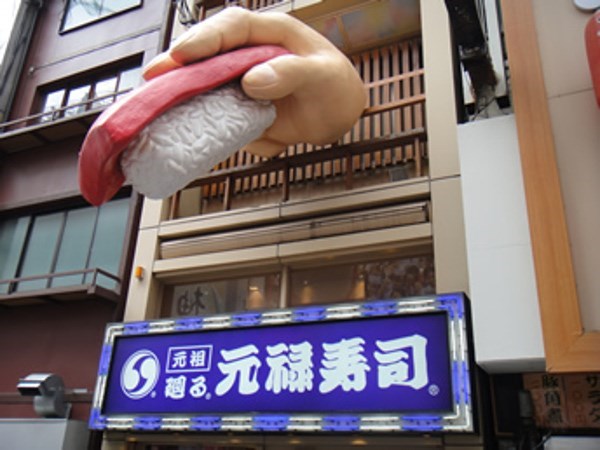 Photo Source: Genroku-zushi
---
Kani-doraku is a popular place for crab menus.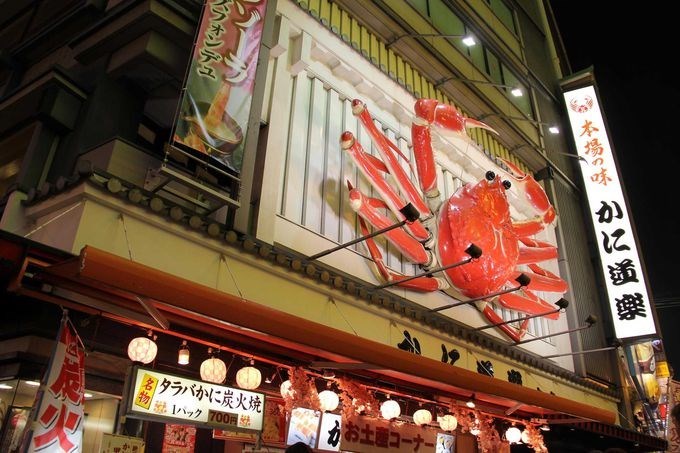 Photo Source: Travel.jp
---
Zuboraya is definitely one of the places mentioned. Look out for the cute fugu lantern signboard to find the store. Their fugu hotpot and sashimi are worth a try!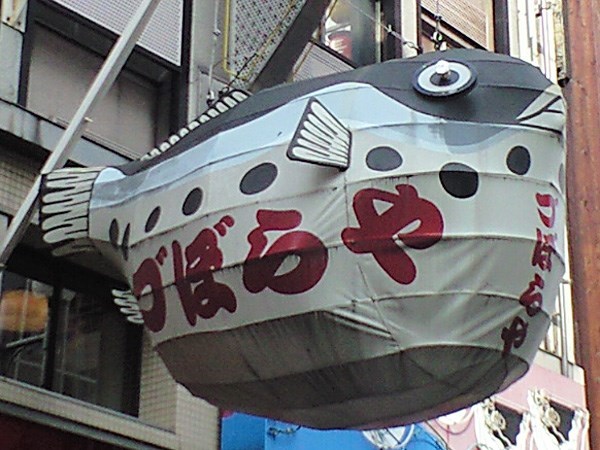 Photo Source: Livedoor Blog
---
#06.
Taro Honpo Kuidaore Taro Ningyo-yaki Store
Visit 'Kuidaore Taro' by Dotonbori's Nakaza Building. Representing Dotonbori, this charming doll is Taro Honpo's mascot character. You can buy Taro-shaped snacks for your Dotonbori walk.

Photo Source: J-TRIP Smart Magazine KANSAI / 中座くいだおれビル
---
#07.
Dotonbori Kona-mon Museum
Want to know all about Takoyaki? Visit the Konamon Museum! Konamon (粉もん) refers to light meals and snacks using flour, originating in the Kansai region. This includes takoyaki and okonomiyaki. At the Konamon Museum, you can take a tour on Konamon History, make Konamon Food Replicas from wax, and cook your own takoyaki from the takoyaki shop 'Kukuru'. This is also a great visit for some fun experience and cool souvenirs!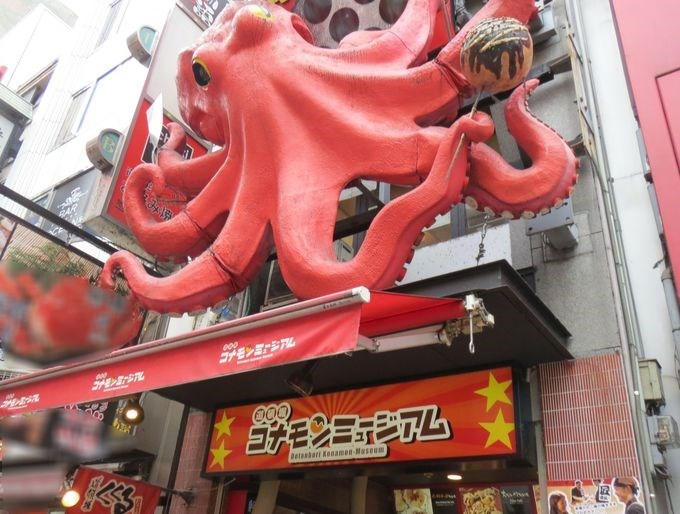 Photo Source: Travel.jp
---
#08.
Osaka Ohsho Dotonbori Main Store
With a gigantic fried gyoza (dumpling) welcoming you at the storefront, this is Osaka Ohsho's flagship store established in 2012. Believe it or not, this huge gyoza model is said to be worth 1100 servings of gyoza!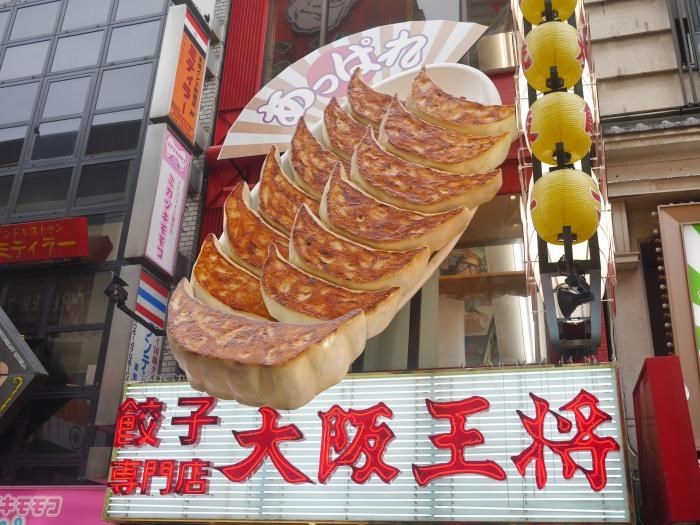 Photo Source: Tokiyadiary Blog
---
#09.
Showa Taishu Horumon Dotonbori Store
The flying wagyu model will surely grab your attention at Showa Taishu Horumon. This restaurant run directly by a buthcher, serves fresh meat and innards.
Photo Source: Tokiyadiary Blog
---
Great Places around the corner of Dotonbori You will also encounter interesting sign boards, a short distance away from the main streets of Dotonbori.

#10.
Dotonbori Akaoni Main Store
Look out for the red 'oni' (Japanese demon) standing by the entrance! Awarded the Bib Gourmand in the Kyoto/Osaka Michelin Guide 2016, Dotonbori Akaoni serves takoyaki and original menu "chapu chapu" - takoyaki in soup.
---
'Fresh Mini Cheese Tart Takoyaki' which looks just like takoyaki, but is actually a cream puff!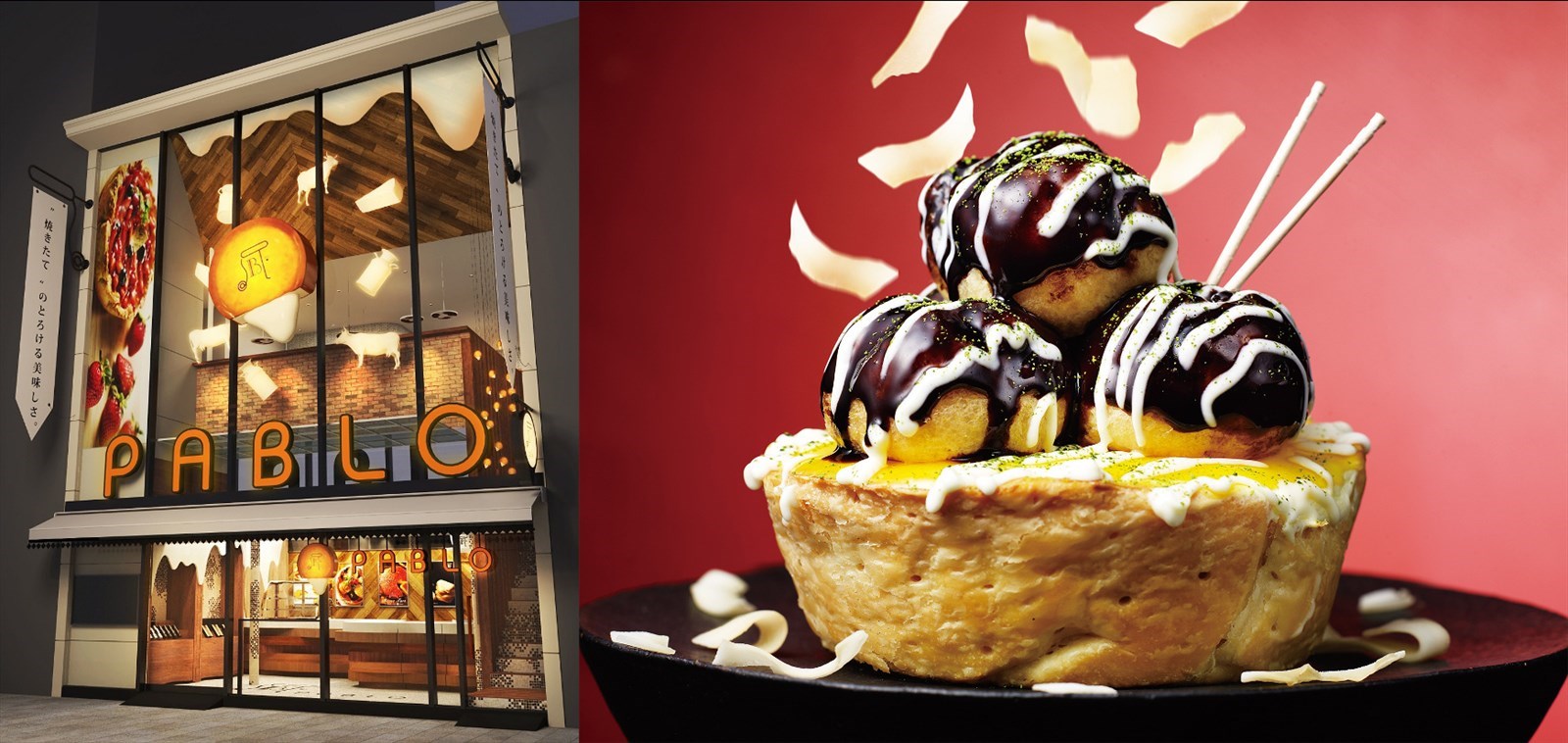 Photo Source: PABLO / PRdese
---
#12.
Kamukura Sennichimae Store
Ramen shop established 30 years ago in Dotonbori, with over 40 chain stores across Japan. Be surprised by its signboard - designed like a torii (arches used for shrines)! And try their signature menu 'Oishii ramen' too!