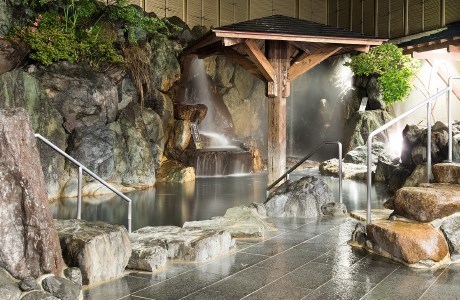 (source: Nizaemon Official Website)

Kyoto is infamous for its humidity in summer and cold temperatures in winter. A day of sightseeing tends to revolve around the weather in these months. Instead of sweltering at temples or freezing while walking in Gion, take a break inside of a sento. Sento is a public, communal bath and also have tasty restaurants attached. Relax in the bath and indulge in local cuisine - all in the same location.
Tenzan no Yu has natural hot spring water in their open-air baths. The water is a "sodium and calcium chloride spring", similar to seawater but with more natural benefits for the body. Bathers can feel the immediate effects of the water, creating smooth skin. In addition to the main bath, there is also a foot bath, fish therapy where small fish nibble on feet for smooth soles, and a carbonated bath, which helps increase blood flow.
Tenzan no Yu Dining
The large facility has plenty of places to relax before and after bathing. Their restaurant, Tenzan no Yu Dining, serves fresh and traditional Kyoto cuisine for lunch and dinner. Bathers can dine on sushi, soba noodles and sashimi starting from 1,000 JPY. Lunch and dinner sets are offered in addition to izakaya-like small plates.
Admission to the baths is 1,050 JPY. The baths are open from 10am to 1am and Meal Kyoto Dining is open from 11am to 1am (last food order at 11:30pm, last drink order at 12am).
There are four baths at Nizaemon, including two rotenburo, open-air baths. The open-air baths, one covered in rocks and one covered in hinoki, Japanese cypress. The two baths change between men and women daily. There are also two indoor baths, one with jacuzzi jets for massages in the water. Bedrock baths, a medicinal bed made of rock minerals, is another place to relax. Nizaemon even offers a small hair salon.
Nizashokudo
The attached restaurant, Nizashokudo, offers affordable, post-bath meals. Most of their dishes are under 1,000 JPY. Classic Japanese meals, like soba, curry rice, and chicken katsu are offered. Guests can order izakaya-like small dishes at dinnertime, like edamame and yakitori, in addition to draft beer or fruit sours.
Admission to the baths is 700 JPY on weekdays and 850 JPY on weekends. The bedrock baths are an additional cost, 800 JPY on weekdays and 900 JPY on weekends. The baths are open from 10am to 2am on weekdays and 8am to 2am on weekends, while the bedrock baths are available from 10am to midnight.
Chikara no Yu is a sento with plenty of options, baths, massages, a hair salon and even a futsal court. The silk-buro is a women's only bath with special, slightly carbonated water. The water increases blood flow and creates a silky feeling on skin. In addition to the silk-buro, there is an open-air bath filled with natural hot spring water and a jet bath for massages. There are also three different saunas, one featuring a salt scrub for exfoliation.
Jinen & Shokudo
Attached to Chikara no Yu is Jinen & Shokudo, a buffet restaurant featuring over seventy dishes. Open for lunch and dinner, the buffet restaurant provides guilt-free meals. Local, freshly-picked vegetables are the main ingredients in the Japanese and western dishes.
Admission to the baths is 650 JPY on weekdays and 750 JPY on weekends and open until 10am to 1am. Jinen & Shokudo restaurant is open for lunch (11am-3pm) andon weekends it open for dinner as well (5pm-10pm). Weekdays are 1,390 JPY and weekends Lunch and dinner are 1,590 JPY.