Japan is known for its unique twist on Christmas celebrations, and Kyoto is no exception to this modern tradition. If you want to experience a unique balance of Japanese modernity and history and great food during the holidays, check out our recommendations for the Christmas holidays in Kyoto!
For those of you who love variety, it is possible to make reservations for the buffet, which has a variety of meat, fish, and vegetable dishes. Tower Terrace is located in the picturesque Kyoto Tower, and boasts tailored seasonal menus, which draws inspiration from Western cuisine while still capturing the essence of what makes Japanese food unique and renowned around the world. For those travelling around Christmas, you can reserve your seat for their Christmas Buffet 2019, available from December 21st to the 25th. Lunch (11:30AM start or 1:30PM start) is 2,950 JPY, and Dinner (5:30PM start or 7:30PM start) is 5,800JPY.
Even if you can't catch the Christmas Buffet, Tower Terrace offers daily breakfast, lunch and dinner buffets.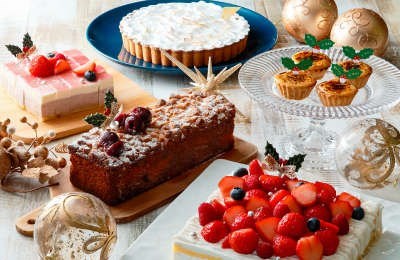 For those of you who love taking in the night scenery without the crowd that comes with illumination events, Kyoto Tower observation deck is a great place to take in the beautiful sites of the city.
Located in the Kyoto Century Hotel, roughly a minute away from the Torimaru Central exit of Kyoto Station, All Day Dining La Jyho boasts an impressive buffet that shows a variety of seafood and other foods.
Prices at All Day Dining La Jyho range from 4,000 JPY to 5,000 during the evening hours and lunch from 3000JPY to 5000JPY.
It is possible to make a reservation for afternoon tea. It is also possible to make a reservation for the buffet. The hotel will have a buffet known as Berry! Berry! Christmas, with a variety of cakes and food, including pilaf, caprese, and mixed salad, and allows for 90 minutes of all-you-can-eat.
The buffet runs from Saturday November 12, 2019 to Sunday, December 22, 2019 from 15:30 to 17:00. Keep in mind that on Saturday and Sunday December 21 and 22nd, the buffet will run from 14:00 to 15:30.
All Day Dining La Jyho's afternoon buffet runs from 12:00 to 14:30 on Mondays through Fridays. On weekends and holidays, there will be a 90-minute limit on the buffet. Lunch runs from 11:30 to 13:00, and 13:30 to 15:00. Dinner will be from 17:30 to 19:00 and 19:30 to 21:00.
For all the coffee lovers out there, Ogawa Coffee will definitely satisfy your cravings. Situated close to the Rohm Illumination, Ogawa Coffee was originally founded in Kyoto in 1952.
The Rohm Illumination, which is the largest illumination event in Kyoto, runs from November to December. The illumination, which is sponsored by ROHM Semiconductor, a Kyoto-based semiconductor company, was first held in 1995.
The illumination is a 15-minute walk from Hankyu Saiin Station or Nishi-Kyogoku stations respectively. For those of you who don't want to walk, you can also take the city bus 32 from Tambaguchi Station, which stops in front of Nishioji Goji, a 5-minute walk away from the illumination.
Enjoy various beverages and light meals, including lattes, toast, and salad plates. Prices at Ogawa Coffee range from 1,000 JPY to 5,000 JPY.
While Kyoto is known for the mix of modern and historical Japan and traditional Japanese food, that doesn't mean that Kyoto doesn't have a lot of options to offer when it comes to food over the holidays.